Moringa and Pomegranate Antioxidant Face Cream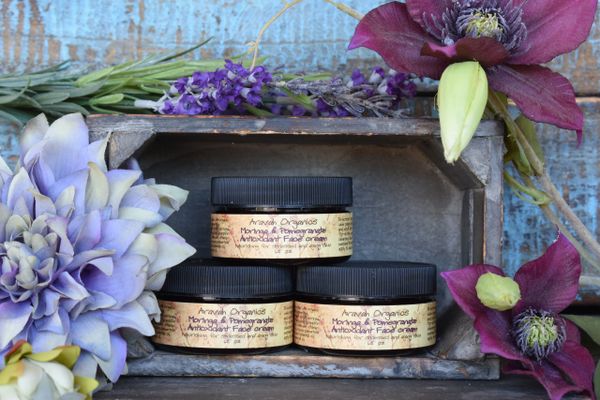 Our Moringa and Pomegranate Antioxidant Face Cream is a very rich and nourishing skin moisturizer.  It's not a water-based cream. It has a buttery consistency- but don't let that scare you. I have never liked anything heavy on my skin.  It just makes me feel like I have dirt and build-up, but you'll find that when applying the Moringa face cream, a little bit goes a long way and it does not leave a heavy feeling. I like to completely massage the cream into my skin so that there is no shininess.  I apply morning and night because as I get older my skin has become drier, and also living in the desert has added to the dryness. This cream has amazing skin nutrients not just from the oils, but also from the incredible herbs that are infused into them. 1.5 oz.
MORINGA SEED OIL comes from the tree known as the 'miracle tree.' Moringa seed oil rejuvenates dull, tired, and aging skin. Antioxidants and nutrients help fight free radical damage that can cause skin tissue damage and lead to the formation of wrinkles. It has vitamin A, which helps build collagen in the skin, vitamin C to help reduce fine lines and wrinkles, and the healing and anti-inflammatory benefits of vitamin E. Moringa seed oil helps clear blackheads and pimples. 
POMEGRANATE SEED OIL stimulates the keratinocytes, the major cells in the epidermis, which is the outer layer of skin. Pomegranate seed oil has strong anti-inflammatory properties and antioxidant effects, that can help the appearance of aging skin. 
ARGAN OIL is alive with skin-loving nutrients that help heal damaged skin and aging.  It helps with skin elasticity and dehydration. The high amounts of vitamin E help fight free radical damage.
ROSEHIP SEED OIL is high in vitamin A, which is known to increase elastin levels and promote collagen, which delays the aging of the skin. It regenerates cell renewal.
PUMPKIN SEED OIL is rich in vitamins A, E, C, K, zinc, omega 3 and omega 6 (essential fatty acids), and minerals phosphorus, magnesium, manganese, and calcium.  It is rich in antioxidants and also helps with redness and acne.
BORAGE OIL with regular use has been known to help reduce symptoms of eczema, acne, psoriasis, and chronic inflammatory skin conditions of rosacea. 
SHEA BUTTER is one of the best anti-aging, regenerating, and protecting natural products in the world! It protects your skin from UV sunlight, harsh climate, dehydration, and pollution damages. 
VIRGIN COCONUT OIL is excellent for nourishing the skin. It has unique anti-septic and anti-microbial properties.  It's a natural treatment for acne.
JOJOBA OIL  penetrates into the skin without clogging the pores. It can be used on all skin types and it contains vitamin E and antioxidants which are great for fighting aging signs and moisturizing the skin. 
CARROT SEED ESSENTIAL OIL is especially heralded and prized for its ability to nurture mature and damaged skin. Carrot seed oils also have a natural SPF of 38 to 40.
PALMAROSA ESSENTIAL OIL helps to stimulate cellular regeneration.  
LAVENDER ESSENTIAL OIL is anti-septic and anti-fungal which helps reduce scarring and speeds healing.
ORANGE ESSENTIAL OIL  has shown to promote the production of collagen. It is helpful at soothing dry, irritated skin as well as acne-prone skin.
ROSE GERANIUM ESSENTIAL OIL promotes beautiful radiant skin
HERBS:
MARSHMALLOW ROOT
MORINGA LEAVES
GREEN ROOIBOS TEA 
BORAGE